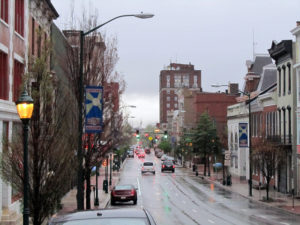 Select Home Exteriors is your go-to source for everything related to roofs, decks, siding, gutters, windows, and doors! For over 20 years, we have been the premier providers of home exterior services in Hagerstown, Maryland. Our experts are dedicated to providing complete customer satisfaction. We work quickly and pay close attention to detail, making sure nothing is overlooked or missed. With high-quality brands and affordable prices, you have nothing to lose and everything to gain by using Select Home Exteriors for your next home project. Schedule a free, no obligation estimate!
Why live with a sub-par roof that leaks, has torn or missing shingles, or has soft spots? Protect your investment in your home with a quality new roof that will last for decades.
Repairing and replacing your roof can be costly and stressful. That is why our experts are ready to take on the challenge and handle everything from start to finish. We will inspect your roof and suggest the best roofing package based on your budget, style, and time needs. Call today!
>>3 Signs Your Asphalt Shingle Roof Needs Replacing>>
Investing in new siding and gutters for your home not only creates better curb appeal, but also increases your home's value and reduces energy costs. It may be time to consider new siding or gutters if your home has:
Sagging gutters
Torn or missing siding
Bubbling siding
Rusted gutters
We carry only the best brands at Select Home Exteriors. If we wouldn't put it on our own homes, we won't put it on yours! Get your free estimate today!
>>Need help choosing the best type of siding for your home?>>
Call Select Home Exteriors today if your windows have:
Cracked glass
Crumbling seals
Condensation
Poor energy efficiency
Difficulty opening & closing
Old windows in disrepair can cost you hundreds – even thousands! – in lost energy each year. Why throw money out the window, literally, when you can get new, energy-efficient windows that will start paying for themselves immediately? Call today for a quote!
>>5 Signs That It's Time to Replace Your Windows>>
Whether you need a deck remodel or a complete design and installation, our team can bring your outdoor living visions to life. We are experts in everything deck related and will handle everything from start to finish including design plans, HOA approvals, permits, and more! Schedule a consultation today for great backyard BBQs tomorrow!