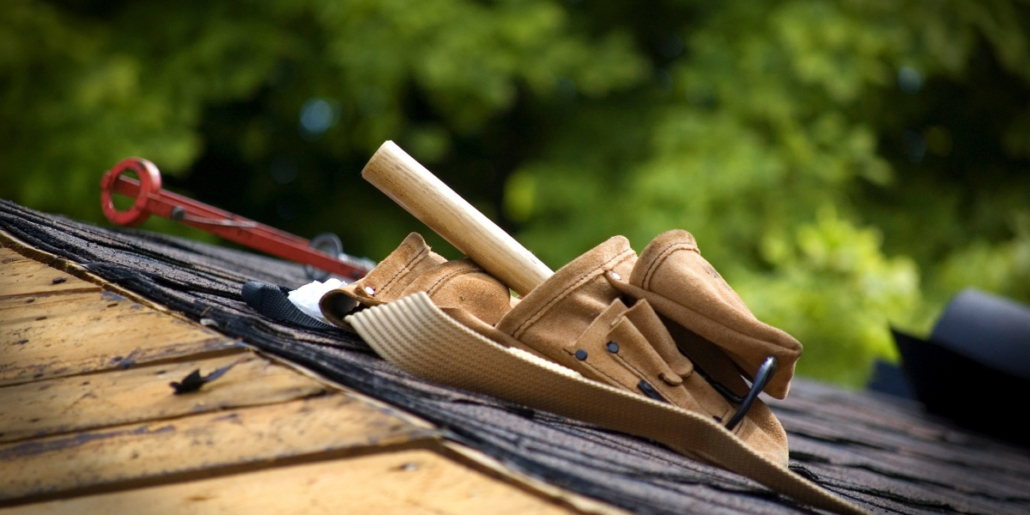 As you're up on your ladder doing some gutter cleaning, you notice a few missing shingles. Or, perhaps you've seen a small wet spot spreading on the ceiling of your attic, a sure sign that you've got an issue with your roof.
Getting up on the roof to nail down a new shingle or replace a few problem areas isn't that big of a deal, right? It'll save you a ton of money over hiring a roofer, and the job can't take too much time, can it?
Stop!
Before you try to tackle that roofing project on your own, whether it's a small repair or a full replacement, here are 4 reasons to consider hiring a roofing contractor:
Safety
Roofing is dangerous work.
If you aren't experienced with walking along your roof, let alone trying to balance yourself while holding a hammer, one misstep can spell disaster. You could damage your roof or your home, or seriously injure yourself.
Roofers, on the other hand, know how to walk and balance while doing their work. While accidents do happen, they are far less likely to happen to an experienced roofer than they are to a homeowner trying to DIY a fix.
Expense
While it may seem that you're saving tons of money by doing the job yourself, you have to consider that your inexperience may lead to other issues that need corrected.
You could incorrectly fix the problem, causing you to re-buy the materials necessary and have to spend more time working on a solution. Or, your work could cause another, more serious and expensive, problem with your roof that needs to be fixed.
In addition, those simple missing shingles you see could be the sign of a larger problem that needs to be remedied before more damage is done.
An experienced roofer knows what to look for and can spot problems that you may not notice, getting them fixed earlier and for less money than if they were left for longer.
Liability
If you get injured while up on your roof, not only do you have to pay for your medical bills, but your homeowner's insurance premiums take a hit.
Roofing contractors, on the other hand, carry special insurance to protect homeowners in the event that one of their workers gets injured. This leaves you with less financial and legal liability, which could make a big difference in your normal operating budget.
Liability also extends to your roof's warranty.
In many homeowner's insurance policies, as well as the roofing manufacturers' warranties, there are clauses that state the warranty on all materials is voided unless repairs or installation is done by a licensed, certified contractor. By taking on the job yourself, you're running the risk of not having a true defect covered by your insurance or the warranty if something happens down the road.
Quality
You may be the most careful, conscientious DIY-er in the world, but your work is unlikely to rival that of someone whose entire job is to install and fix roofs.
A quality contractor will get your roofing job done quickly and correctly, and can service any further problems you may have with your roof. This gives you peace of mind knowing that, even though you may have spent more money at the outset, you've got the protection of the contractor's experience and knowledge backing up your project.
Skilled Roofing Contractor in Central Maryland
At Select Home Exteriors, we have years of experience working on roofs of homes and businesses throughout central Maryland. We know what types of materials hold up best in the climate, and we recommend only those brands that we've seen withstand the test of time.
Our team works hard to make sure that your roofing project gets done quickly and correctly, and you get to carry on with your day knowing your roof is in good hands. Schedule your roofing consultation today!
https://www.selecthomeexteriors.com/wp-content/uploads/select-home-exteriors.png
0
0
Jeni Lubbert
https://www.selecthomeexteriors.com/wp-content/uploads/select-home-exteriors.png
Jeni Lubbert
2023-03-20 16:41:48
2023-03-20 16:45:02
Should I Hire a Roofing Contractor or DIY the Job?