Roofing, Window Replacement, & More in Washington County, MD
Choose Maryland's Trusted Local Roofing Experts
Are you looking for a trustworthy, high-quality roofing contractor in Washington County, Maryland? Have you scoured Google and called company after company only to not hear back or get answers that don't fully address your questions and concerns?  We know how difficult it can be to find a roofing contractor – and we're here to help. When you call Select Home Exteriors, you can expect a few things:
Top-notch workmanship

Fully licensed and insured team members

Simple, easy-to-understand estimates

No pressure. Ever.

Active owners who personally consult and check up on job sites
We've got an extensive customer base that we're happy to consider references and we understand that your roof protects your investments, and most importantly – your family. Rest assured that we will always work together with you to find the best long-term solution that fits in your budget with only the highest level of customer service. You are our priority.
Roofing Repairs in Washington County, MD
Do you see water bubbling under the paint in your family room? Is there a slight drip in your foyer? Those are two of the many warning signs that tell you it's time to get your roof examined by a professional roofer before it's too late. Your home is your most treasured belonging, and catching small problems before they turn into big ones prevents property damage and ensure that a small repair doesn't turn into a costly replacement.  At Select Home Exteriors, we're here to help you save money by fixing your roof, windows, or siding – when we are able to – to help you prevent the need for a replacement by fixing it right the first time.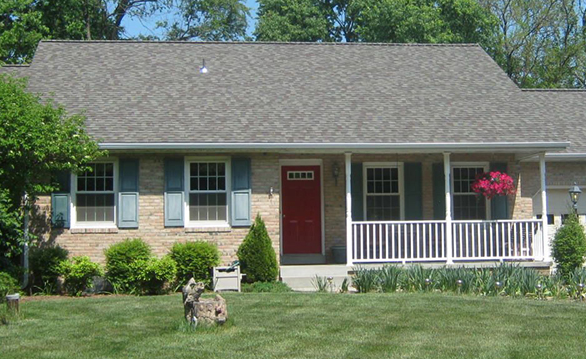 Siding Repair in Washington County, MD
Years of exposure to the elements will eventually wear down the siding of your home, whether the siding is composed of wood, vinyl, stucco, aluminum, or fiber-cement. At Select Home Exteriors, we have experience repairing all types of siding and will be happy to come to your home and provide you with a free, no-pressure estimate that helps you understand the current condition of your siding and what options you have for repair and/or replacement. Our goal is to work together with you to find an affordable, long-term siding solution for your home.
> Not sure what type of siding is on your house? Find out here: Home Siding – Identifying 5 Major Types 
If you choose to replace your siding, you'll see some positive effects immediately:
Improvement in your home's curb appeal

Increased resale value of your home

Reduced energy costs

Lower long-term maintenance costs
We're pleased to offer energy-efficient, low-maintenance siding at an affordable price to our Maryland customers. Whatever your roofing and siding needs are, we have a match for you. We install several brands of vinyl, insulated, and fiber cement siding that will keep your home protected for years to come.
Window Installation & Repair in Washington County, MD
Are you noticing condensation on the inside of your window? Can you feel a slight breeze when you walk past a window – even though it's closed? These signs point to one thing: it's time for a window repair or replacement.
At Select Home Exteriors, we're happy to service all major brands of windows including Anderson windows, Marvin windows, Pella windows, and more. When you give us a call, our friendly team will schedule a time to come out and inspect your windows so that we can give you an accurate quote – no surprises with us! After the inspection, we'll offer you a free, no-pressure estimate and walk you through your options. It's our goal to help you understand the current physical state of your windows and the choices that you have moving forward, so that you can make the best decision possible for your budget and needs.  
When you need a roof or window repair, give Select Home Exteriors a call. We're here for all of your exterior home needs: roofing, siding, windows, doors, gutters, & more. Reach out to our friendly team today!