Check your Roofing Health here!
Sometimes a homeowner contacts us because they've spotted a water leak in their ceiling. By then, damage has been done and a full repair or replacement is costly because it involves not only roof work, but also insulation repair and drywall repair.  Be proactive about the health of your roof and spot the smaller issues before they become a bigger problem!  Read on to learn more about spotting roofing concerns that warrant a consultation with our Maryland professionals.
Select Home Exteriors offers quality and professional roof repair and replacement throughout Maryland.  We serve Thurmont, New Market, Frederick, and surrounding areas.  Fill out the form below for your free no-hassle roofing evaluation!
Cracked Roofing Shingles
Visually inspect the roof of your home and see if there are an shingles that are cracked. When shingles begin to crack they are no longer protecting your home and is a sign the home may be due for a roof replacement
Curled Roofing Shingles
When shingles begin to curl it is a sure sign the roof will need replaced, the curled edges can allow water and other weather elements to damage the wood underlayment or even cause shingle blow off  which would lead to a more costly roof replacement.  Repair your curled roofing shingles before it becomes a bigger problem!
Mildew in the Attic
 Inspect the surfaces of your attic for signs of mildew.  Mildew can be seen as a light or dark colored area on plywood, and may sometimes be found under insulation.  Be sure to inspect all areas. Traces of mildew in your attic may be a sign there is water damage and your roof is leaking
 Moisture in the Attic
Catch attic moisture before it becomes a bigger problem!  Moisture, water stains and steady leaks in your attic is a sure sign your roof should be inspected. Even a tiny leak, if not addressed, can lead to mold and mildow – and a roof replacement.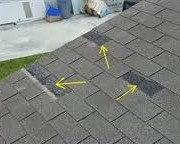 Missing Roofing Shingles
Visually inspect your roof to determine whether or not all of your singles are intact. If your roof is missing shingles, your home is at risk for water damage. This can lead to water, mold, and mildew.