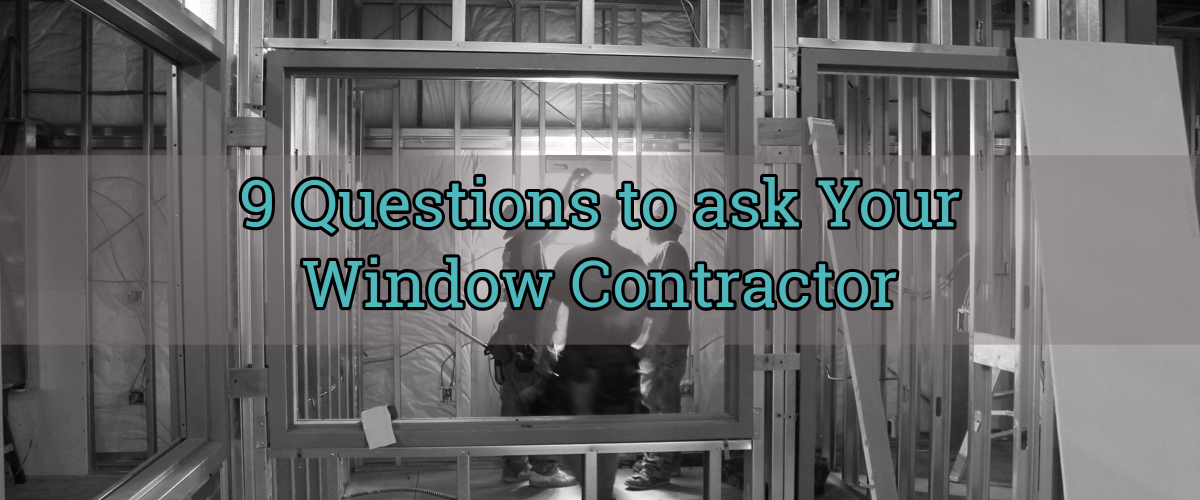 Replacing your windows is a big project, and one that's best left up to the professionals. Before you sign on the dotted line, here are 10 questions you need to ask your window installation contractor:
Are you licensed and insured?
This is a critical question to ask any contractor you are looking to hire to do work on your home. Many states require contractors to have licenses, and making sure you utilize a licensed contractor gives you some protections should a problem arise. The same goes for insurance, which includes liability, workers' compensation, and property damage insurance. These questions are to protect you as a homeowner, as well as your contractor.
Can I get an itemized estimate?
Itemized estimates allow you to see exactly what expenses are projected for your project – Parts, labor, even whether cleanup is included. A reputable contractor will have no problem with giving you this breakdown of expenses, which can come in handy if there are any disputes down the line.
Do you offer painting and/or interior finishing as part of your installation package?
Not all contractors offer finishing services. Some offer both interior finishing, such as trimming out a window, and painting, which is helpful for the homeowner. Make sure to ask what services, if any, are included, and see that they're added to the itemized estimate if they aren't already on there.
How much time will my project take, from ordering my windows to completed installation?
Specialized windows can take quite a while to be delivered, so projects can stretch over a few months before they're completed. Knowing exactly when your windows will be out of commission is a good idea, especially if you're coming up on a seasonal change. Knowing a general timeline can also give you some peace of mind once your project is in process.
Is there a specific window type or brand you recommend?
Some contractors don't like working with certain brands of windows, and others prefer to work only with a few types. Get these preferences up front, with detailed reasons as to why the contractor does or does not recommend a brand. This information, from people who spend every day dealing with and installing windows, can be helpful information when selecting the windows for your home.
What type of warranty do you offer on your installation?
Regardless of how well-installed your windows are, problems can arise weeks or months later. Get the details, in writing, of your contractor's warranty policy in case you need it. Also be sure to retain the contractor's contact information in a safe place.
How will I handle service issues after installation is complete?
This question follows along with Question 7. If you notice drafting on one window once winter sets in, you need to know whether your contractor considers that an issue that's covered under warranty or if you need to find someone else to remedy your problem.
Is disposal of my current windows included with my estimate?
This is a good answer to know up front, as you don't want to reach the end of your installation project only to have old windows littering your property. If your contractor doesn't include removal, ask if he will consider adding the service for an additional fee. If he still doesn't offer the service, ask who he would recommend for hauling away the old windows.
Does my project require a permit? Will you obtain that permit?
The answer to this question will vary depending on where you live. Some municipalities require a permit, others don't. If your contractor is local, he should know right away whether you will need a permit, and should obtain it himself. It's best to verify your contractor's answer with your local code enforcement office to avoid fines or delays.
Armed with the answers to these 10 questions, you can pick the window installation contractor that will do the best job on your house. With years of experience installing windows, the experts at Select Home Exteriors can answer all your window-installation and selection questions. Contact us today for a no-pressure visit from one of our trained consultants!
https://www.selecthomeexteriors.com/wp-content/uploads/select-home-exteriors.png
0
0
Jeni Lubbert
https://www.selecthomeexteriors.com/wp-content/uploads/select-home-exteriors.png
Jeni Lubbert
2017-08-17 22:41:35
2017-09-09 20:46:17
9 things to ask before signing with a window replacement contractor