Choosing a Roof Color: 7 Tips for Finding the Right One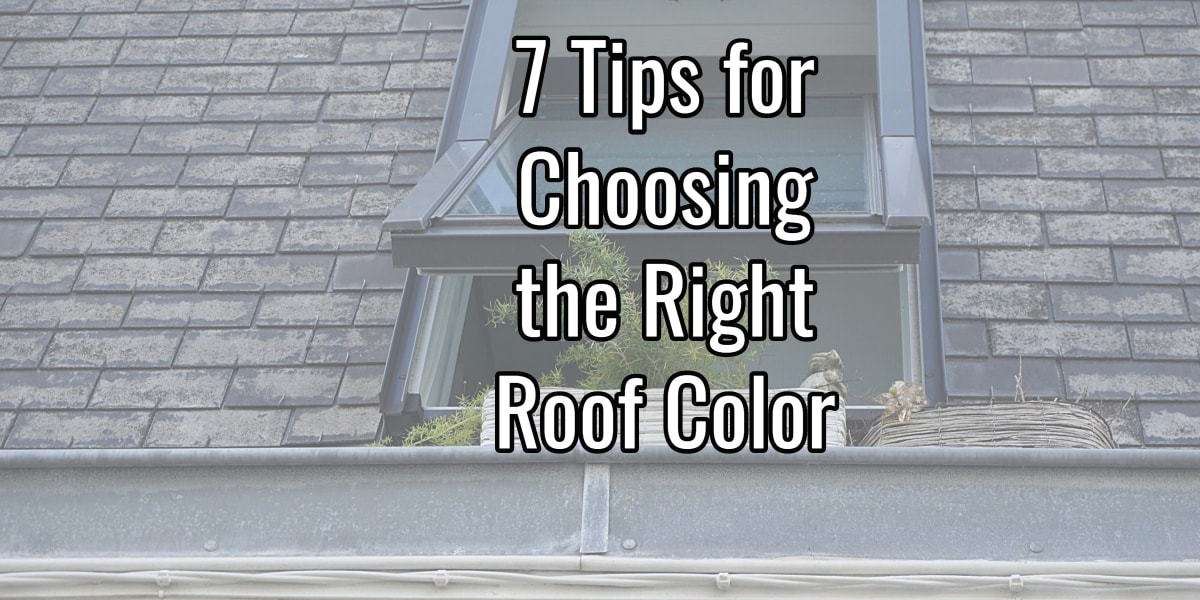 You know you need a new roof; maybe your home is older and you want to update, or you might have a creative itch to redesign. You may even need a new roof out necessity because of structural damage from a storm. No matter the reason, picking out the proper color for your roof is an important step in this process. Follow these simple guidelines to help you make a great decision!
Hot or Cold?
Believe it or not, the color you choose for your roof could have an impact on the temperature of your home. Roof color can actually change the temperature of your attic from 20-40 degrees. A lighter color will reflect sunlight and keep your house cooler, ideal for hot and sunny climates, while a dark roof will absorb sunlight and trap heat in, making it a good choice for homes in colder climates.

Coordination is Key
Some colors just work better together. A gray, blue, or white home will be a better base for dark shingles. For brown, cream, or tan homes consider a brown shingle or mix of brown and tan to add some texture. If your home is a color like green, red, or yellow, you have some more flexibility with shingle colors and could opt for a brown, grey, or black.

What's Your Statement?
Color is one of the best ways to show off your personality. What do you want your home to say about you? If you want a more neutral, down-to-earth look, consider sticking with tans, creams, browns, blacks, grays, and clays.
Sticking with safe roofing colors is also a safer bet for people who are looking to sell their homes in the near future. If you want something trendier, consider palettes that combine tones of browns or employ a mix of blues, blacks, and greys. If you have a specific area of your home that you want to highlight, use a high-contrast color to make it stick out. If you have an area that you're not particularly fond of and want to minimize, use a low-contrast color to hide it. You can also use dark colors to make your home appear smaller, or lighter colors for the opposite effect.

Be a Good Neighbor
If you live in a neighborhood, check with the homeowners association or neighborhood association to see if there are any rules regarding roof colors. Even if there are no rules, you'll want to consider what the homes close to you look like. You don't want the monotony of identical roofs, but you also don't want to clash.

Consider the Style
Some homes lend themselves better to different roofing types and colors depending on the architectural. Spanish-style homes tend took look better with reddish clay shingles, while a ranch may look good with a combination of colors. Traditional Colonial houses need a completely different design approach. If you're at a loss for what may work, drive around neighborhoods to get ideas from similar houses or utilize Google to brainstorm.

Think Material
Shingles come in a variety of materials, and different materials produce different looks.
Clay shingles commonly are red or tan, but can come in other colors. Make sure they are fired in a kiln so that the colors will withstand weather.

Slate can be used, but is expensive and the colors are limited to what you will find in nature.

Concrete can be made to appear like wood, slate, or clay and can come in a large variety of colors.

Metal roofing can be made to look like other roofing options or, in it's typical sheet form, will give your home a distinctive look with vertical lines. It also has the benefit of being energy-efficient, fire-resistant, and strong.
Explore your options for materials and don't be afraid to go outside the box!
Utilize a Professional
You may have a grand idea for how you want your home to appear, and that's fantastic, but remember that a professional may be a great resource to make sure the design choices you make are viable. Once you have your plan, reach out to someone in the industry who has a history of success in roofs for some help. Between your ideas and their experience, you are on your way to a beautiful new roof!
Central Maryland's First Choice for Roofing
For more than 20 years, the professionals at Select Home Exteriors have provided exceptional roofing products and installation to homes throughout central Maryland. Why trust just any contractor for your roofing project when you can work with the best? Contact us today for a free estimate!
https://www.selecthomeexteriors.com/wp-content/uploads/download-4.jpg
600
1200
Jeni Lubbert
https://www.selecthomeexteriors.com/wp-content/uploads/select-home-exteriors.png
Jeni Lubbert
2018-08-08 19:25:44
2018-08-08 19:25:44
Choosing a Roof Color: 7 Tips for Finding the Right One