5 Tips for Caring for Your Windows So They Last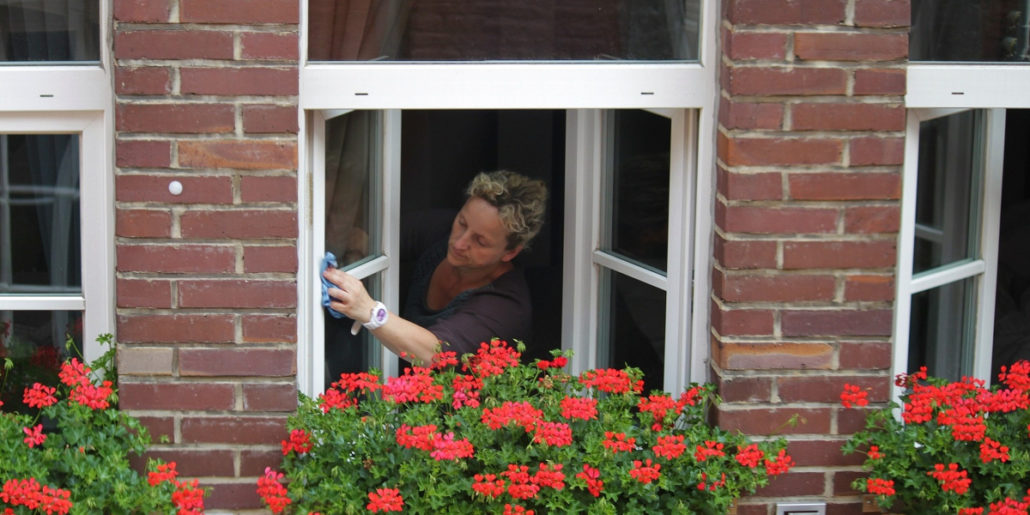 Your home's windows are among the most important – but most neglected – assets.

They keep rain, snow, and inclimate weather out, while helping you maintain a comfortable temperature inside. On sunny days, you can throw open the curtains and look outside, basking in the scenery.

To ensure that your windows stay in great condition year after year, follow these 5 tips for window care so they last:

Clean Regularly – and Gently
Keep that glass sparkling and avoid conditions that could cause damage by cleaning your windows regularly. Most people do this task twice a year – in spring and fall.

If you have wooden windows, gently wipe them down with a soft damp cloth. This helps remove any dirt and dust that may collect without introducing harsh cleaners.

Be careful to not use too much water, as that can seep into your window casements and sashes and encourage rot.

Wash vinyl and aluminum-framed windows with a gentle detergent, such as dish soap, and a soft scrubbing brush.

When cleaning windows, make sure to clean not only the casement but also the area around the window. This removes any built-up dirt that can collect in the mechanism and cause sticking.

Keep your glass sparkling with window cleaner or a homemade mix of vinegar and water. Avoid using cloths or paper towels to clean the glass, as you can leave behind tiny fibers that dull the shine. Instead, use a piece of crumpled-up newspaper to wipe away the window cleaner.

Inspect Often
As you clean your windows twice a year, carefully inspect them for signs of damage or disrepair.

Check the condition of the window frame and sash and, for wooden windows, use a small metal probe to look for soft spots, which mean you've got rotting.

If you have double- or triple-paned windows, look carefully for signs of moisture between the panes. This means your seals have broken, reducing the insulation capacity of the window. Replace any broken seals.

Look for signs of peeling or warped paint, especially on windows that get the most daily sun exposure.

If your windows have weather stripping, check its condition and replace any that has worn out.

Feel around the windows for air gaps and fill with latex caulk.

Check the Sealing
The sealing around your windows helps keep outdoor air out, making your home more energy-efficient. Keeping it in good repair is important to maintaining lower energy bills and a more comfortable inside temperature.

If you notice broken or cracked seals, moisture inside your window panes, or feel air coming in around your window, your sealing needs attention.

Call a window contractor or handyman to replace your window seals, or attempt the project yourself. For air gaps around the window, fill them in with spray sealant or caulk.

Repaint Regularly
Sun and temperature differences can greatly damage the paint on your wooden and metal frames over time.

To keep your window frames looking great and protected from damage, repaint them every three to four years with a paint that's recommended by your window's manufacturers.

Before you begin painting, clean the windows thoroughly and make sure they're dried. Be careful to not paint over any moving parts, as this can lead to your windows being unable to open.

Repair Damage
If you notice something on your window that's broken or missing, get it fixed quickly. The longer you leave your window damaged, the more energy you'll lose and the more expensive the repair may end up being.

Many small repairs, such as signs of rot or missing sealant, can be done on your own. For more extensive problems such as broken glass, you may need to call a professional.

Experienced Window Contractor in Central Maryland
Your home is your biggest investment, and keeping your windows in good condition is part of protecting that investment. Whether you need some window repairs or are looking to replace your existing windows, the team at Select Home Exteriors gets the job done quickly, professionally, and affordably. We work side-by-side with you to select the exact products for your unique job, keeping you updated on the status of your project from start to finish. Call today for a consultation!

https://www.selecthomeexteriors.com/wp-content/uploads/select-home-exteriors.png
0
0
Jeni Lubbert
https://www.selecthomeexteriors.com/wp-content/uploads/select-home-exteriors.png
Jeni Lubbert
2019-07-29 16:51:36
2023-03-21 16:53:33
5 Tips for Caring for Your Windows So They Last