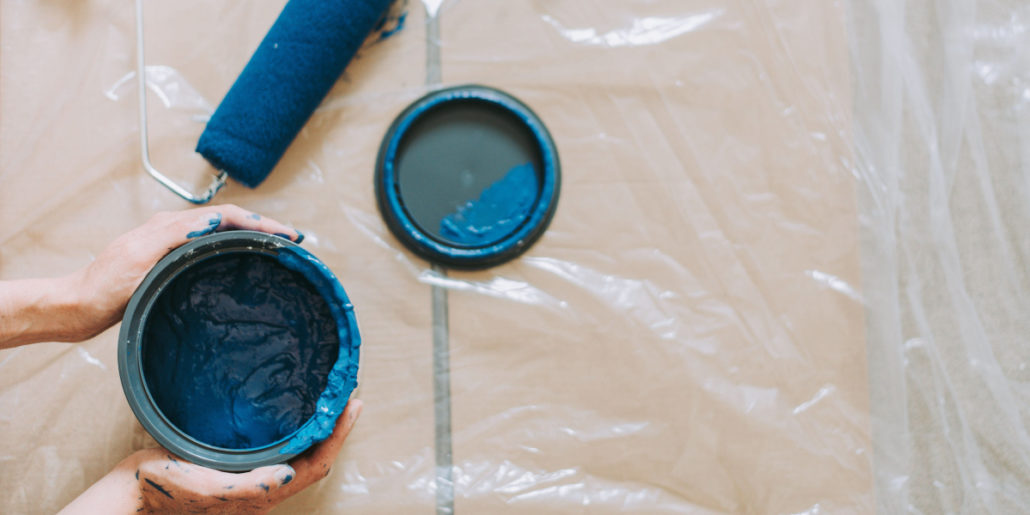 Maybe you moved into a new house with vinyl siding in great shape, but the color just isn't you. Or, you really want a new look for your home's exterior, but replacing the siding's not in your budget this year.

You may be wondering: Can I paint my vinyl siding?

The Answer
In short, yes, you can paint your vinyl siding!

While vinyl siding is meant to be easy-care and isn't intended to need to be painted like wooden siding, you can paint vinyl siding that's in good condition. If you want to change up the look of your home, give things a fresh feel, or just want to fix the fading on that one side of the house that's always in full sun, painting your siding is a great option when full replacement isn't necessary.

If done correctly, properly painted vinyl siding can last up to 10 years without needing touch-ups. That's a pretty good return on your investment!

The Method
Painting your vinyl siding is similar to nearly every other outdoor painting project. Just follow a few steps, get ready for a big job, and you'll have a fresh look at a fraction of the cost of new siding.

Step 1: Check the Weather
If you're painting your siding in less-than-optimal conditions, prepare for less-than-optimal results. It may mean waiting a few days until the weather's ideal, but that patience will pay off big time when you get the strong, long-lasting finish you want.

Only paint in mild temperatures, low relative humidity, and under an overcast sky. Also, be sure to find a day when the wind is low. If you paint on hot, sunny days or days with high winds, things may look all right for a while, but you're more likely to see bubbling and cracking down the line, meaning your hard work is ruined.

Step 2: Get the Right Paint
You can't just use any paint that's on sale and hope for the best. When selecting the paint for your vinyl siding project, be sure to find:

A paint that contains acrylic and urethane resins. These two ingredients accommodate the expansion and contraction of vinyl and help the paint adhere to the surface.
A color that is the same shade or lighter than your current siding's color. Darker colors will retain heat, making your vinyl siding more prone to premature warping.
Step 3: Prepare the Siding
Before you ever lift a paintbrush or roller, you need to thoroughly clean your vinyl siding so the paint can adhere properly.

In a bucket, mix:

⅓ c laundry detergent
⅔ c powdered household cleaner
1 qt liquid bleach
1 gal water
Use a cloth or soft-bristled brush to clean all the siding you plan to paint, then rinse thoroughly. Let the siding dry completely before you begin painting.

Step 4: Apply Primer (If Needed) & 2 Coats of Paint
If your vinyl siding has completely lost its previous color, is porous, or has become pitted, you will want to apply a latex urethane primer formulated for outdoor use. If your siding is still in good condition, primer isn't necessary.

Use a roller or paint sprayer to apply the painting evenly to your siding. Be careful not to apply too much paint in one area. Save the brushwork for corners and edges.

Let the first coat of paint dry completely, or mostly, before applying the second. Allow the second coat to dry for up to 24 hours before considering the project done. If you still see areas where the old siding color is bleeding through, you need to give the whole house a third coat of paint.

Step 5: Sit Back & Enjoy Your Hard Work!
While painting siding is a labor-intensive, time-consuming project, especially if you've got a larger house, it is something well worth undertaking. You get a spiffy new exterior color that can last for years, all for far less money than you'd spend replacing your siding!

Premium Vinyl Siding Installation in Central Maryland
Siding is one of the things that can make or break the appearance of your home. New, quality siding adds curb appeal, improves energy efficiency, and can even increase the resale value. 

If your siding is old, cracked, warped, or just needs to be replaced, call the skilled team at Select Home Exteriors. We work with only the best national siding brands, and our technicians get the job done quickly and correctly so you can get back to your life. Schedule a consultation today!

http://www.selecthomeexteriors.com/wp-content/uploads/select-home-exteriors.png
0
0
selecthome
http://www.selecthomeexteriors.com/wp-content/uploads/select-home-exteriors.png
selecthome
2019-07-29 16:43:03
2019-07-29 16:43:05
Can You Paint Vinyl Siding?